Commodity Exchange of the Year, 2012

The London Metal Exchange has been awarded the Commodity Business Award for Commodity Exchange of the Year, 2012. The 135 year-old London Metal Exchange is about to end its history as a member-owned exchange, catapulting acquirer Hong Kong Exchanges & Clearing (HKEx) into the commodities big league.
When the LME announced a possible sale in September last year, nobody doubted that there would be intense interest from many of the world's major exchanges particularly. However, there was also much scepticism that the diverse shareholder base of this trophy asset, with its 135 years of fiercely independent history, would ever reach agreement on a sale.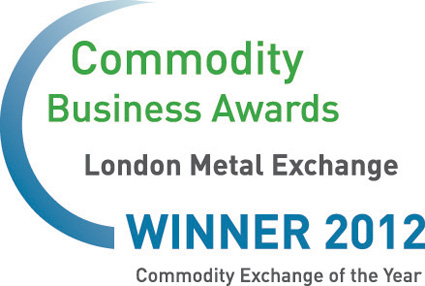 The LME Board ran a flawless multi-stage auction process, with no delays or derailments, narrowing down a broad field of interested parties. In choosing HKEx as its new owner, the LME have selected a party that not only paid a highly attractive price but – critically – secured the marketplace (pledging not to move the LME from London and to keep its open-outcry trading floor), as well as bringing huge potential upside in Asia.
The real success of the deal was in ensuring that the £1.388 bn (US$2.2 bn) proposal that was put to shareholders was, despite their diverse nature, received with enthusiasm, resulting in an approval level of 99.8% – the highest ever achieved in any UK Scheme of Arrangement and clearly reflecting the overwhelmingly persuasive price tag.
The London Metal Exchange is set to achieve another record year's trading in 2012 – a milestone year which along with the sale to HKEx saw work begin on building a new clearinghouse which is set to go live in 2014 – adding to profitability and improving service to members. Trading liquidity has built on record volumes in 2011 and bucked the downward trend seen at other exchanges.
Average daily volume is up 8.5% from 2011 with 633,702 lots trading per day. Up to the end of September, 119.1 million lots traded, the equivalent of US$10.9 trillion in notional turnover – up 11% from the corresponding period last year (107.0 million lots).
Other LME Highlights for 2012 include: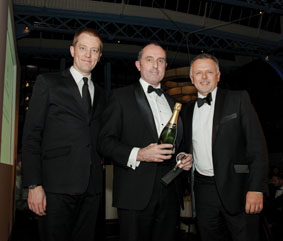 LME announces record volumes for September 2012; 14.09m lots traded.
Cobalt and molybdenum trade 7,748 lots so far in 2012 ($291m equivalent), with a total of 22,161 lots traded since launch ($1.0bn equivalent).
Votes in favour of acquisition by Hong Kong Exchanges & Clearing Limited (HKEx). In landmark £1.388 bn deal shareholders vote almost unanimously for sale due to complete in Q4 – approval level of 99.8% the highest ever achieved in any UK Scheme of Arrangement.
Selects Swedish software house Cinnober as core technology provider for clearinghouse – LMEclear.
Board of LME Holdings Limited recommends £1.388 bn cash offer (£107.60 per share) by Hong Kong Exchanges and Clearing Limited be proposed to ordinary shareholders.
LME Clear to move into new premises.
LME to broaden education and outreach in Asia in response to growing interest in futures trading.
Decides to make a number of amendments to Exchange User Fee and delayed until July 2012 to allow for systems compliance.
Launches live forward price curve for all metals traded in the last Ring session of the day (the afternoon "Kerb"), to add further transparency to the procedures used to establish the Closing Prices.
Launches LMEswaps for all non-ferrous metals – Financially settled contracts based on the average monthly price are world's first of type to be traded on-exchange and designed for physical industry participants needing to hedge the monthly average price.
LME volumes surge to new record in 2011; Total volume up 21.9% with a total of 146.6 m lots traded; Total value traded increases 32.8% to $15.4 trillion.
LME Board moves to invest in future of Exchange; takes next steps to self clearing, establishing LMEclear; New Exchange User Fee to support operations.
LME launches swaps, January 2012.
Trading has also surged in the LME's nascent minor metal contracts during H1 2012, with volumes for LME Cobalt up 91% in 2012 compared with 2011.
Voters in this category were also suitably impressed choosing the London Metal Exchange in the face of strong competition. Accordingly, the judging panel has rewarded the London Metal Exchange with the Commodity Business Award for Commodity Exchange of the Year 2012. The award was presented to Diarmuid O'Hegarty, deputy CEO, by celebrated British comedian Alun Cochrane.