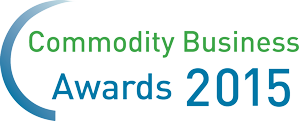 Rewarding talent and excellence throughout Commodity Markets
By becoming a sponsor of the Commodity Business Awards you will become a key partner in the Awards process and share in the benefits of rewarding excellence throughout the commodity industry.
Maximum exposure is offered to sponsors throughout the Awards process including the dedicated website, brochures, announcements in industry publications (our own and those of our partners), venue signage, conference documentation etc. Sponsors also receive advertisements in Commodities Now magazine and exposure via our Media Partners.
We invite companies interested in unique sponsorship opportunities to contact Charlotte Sones This email address is being protected from spambots. You need JavaScript enabled to view it. who can provide a varied list of ways in which to participate in these prestigious Awards.
The Commodity Business Awards are the only event of their kind recognizing and rewarding excellence throughout the global commodities industry. Attended by over 250 guests from the world's leading commodity companies, and held at the prestigious Savoy Hotel, they are the number one branding opportunity for companies wishing to gain exposure, and do business with, this highly affluent and influential client base.
7th year
20 Awards recognizing excellence in trading, risk management, structuring, finance, research, advisory, logistics, legal and specialist technology
Over 300 nominations last year with over 15,000 votes cast
'Must attend' industry event with a truly global attendance
Tickets priced at £200 per head
Hosted by a famous comedian with additional guest speakers
250 of the most influential members of the world's leading Banks, Trading Houses, Brokers, Exchanges, Law Firms and Technology companies
Headline Sponsorship Package: POA

Headline Sponsor of the Commodity Business Awards 2016
Opportunity to present Award and make a speech
Logo on front of awards brochure
Back cover advert on awards brochure
Stand at the event to do business from
Sponsor logo board for photo opportunities
Logo projected on stage for ceremony
15 Complimentary tickets to attend
Logo on all promotional materials in the lead up to and after the ceremony (inc. invitations, emailers ((30,000+)) and house advertisements)
2 x full page adverts within the July and October issues of Commodities Now (also replicated online)
Mentioned heavily in the awards write up (Dec issue) w/photos
Prominent banner on commodities-now.com during awards campaign July-Dec (est. 780,000 page impressions)
Prominent branding/banner advertising on commoditybusinessawards.com for 1 year
Logo and/or text mention of sponsorship in a minimum of 3 alerts through our social media channels
Promotion throughout our media partners' platforms
First refusal for 2017.
Champagne/Reception Sponsorship Package: POA
Projected logo and branding at the reception
5 free standing display boards
Full page advertisement in the awards brochure
5 Complimentary tickets
Logo on promotional adverts for the ceremony within Commodities Now
Logo on invitations
1 year banner on www.commoditybusinessawards.com
Logo and/or text announcement as 'Champagne/Reception Sponsor' through our social media channels
Official email announcement to the Commodities Now database (via email)
First refusal for 2017.
Category Sponsor: POA

A fantastic opportunity to sponsor one of the 5 most celebrated awards covering Commodity Transactions Management including Broker, Exchange, Deal, Research House and Commodity House of the Year. More information available on request.