Commodity Business Awards - Ceremony 2011
The Cumberland Great Cumberland Place, London
The 2011 Awards were presented on Wednesday, November 16th
This year's awards were presented by a variety of dignitaries. The Master of Ceremonies for the evening is Simon Evans.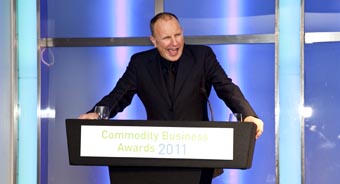 CONTACT

This email address is being protected from spambots. You need JavaScript enabled to view it.
This email address is being protected from spambots. You need JavaScript enabled to view it.
OR CALL: +44 (0) 20 7801 0303

---
These Awards cover the commodity business spectrum
Power & Energy, Industrial & Precious Metals, Agriculture & Softs, Renewable Energy & Emission Markets, Logistics, Legal, Regulatory Policy, Research & Specialist Technology.
---