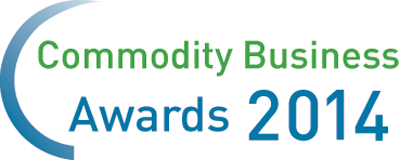 The 2014 global Commodity Business Awards were announced at a special ceremony at the Savoy Hotel, London [December 3rd 2014]. Hosted by Commodities Now magazine, the awards were presented by a variety of commodity market dignitaries and celebrated British comedian Alun Cochrane.
The 2014 Award Winners:
Trading, Risk & Portfolio Management – Rewarding Excellence in:
Energy Markets: GDF SUEZ trading
Industrial Metals: INTL FCStone
Precious Metals: Morgan Stanley
Agricultural & Softs Markets: Macquarie Bank

Emission Markets: Amerex Brokers LLC
Renewable Energy: EDF Trading

Traded Commodity Markets (across all products):

Trafigura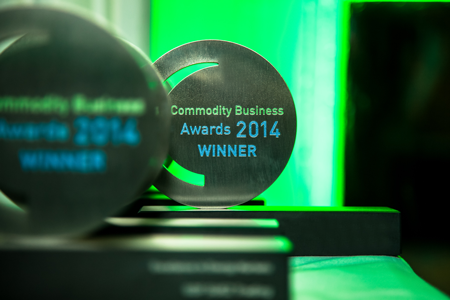 Commodity Market Development – Rewarding Excellence in:
Risk Exposure Mitigation: EFETnet electronic Regulatory Reporting (eRR)
Finance & Structured Products: BNP Paribas
Market Policy & Advisory: Baringa Partners
CTRM Software: Aspect Enterprise Solutions

Data Management: DataGenic
Commodity Logistics: Thomson Reuters Eikon
Trading Operations & Technology: Sapient Global Markets
Commodities, Legal: Holman Fenwick Willan
Commodity Transactions Management – announcing:
Commodity Deal of the Year 2014
Mercuria (J.P. Morgan Chase physical commodity business)
Commodity Research House of the Year 2014
Morgan Stanley
Commodity Broker of the Year 2014
GFI Group
Commodity Exchange of the Year 2014
CME Group
Commodity House of the Year 2014
Macquarie
"We shine the spotlight once again on the talent, dedication and expertise driving commodity business into a new paradigm." said Guy Isherwood, Awards Director and Publisher/Editor of Commodities Now magazine.
"We have entered a new era for natural resource markets ... throughout the complex discovery to delivery processes that make this 'alternative asset class' unique. With many commodity prices now at 5-year lows, the demands on the industry to cut costs, manage resources more efficiently and drive value have never been more acute.
"These awards recognise and reward talent and excellence throughout the commodity complex; to those companies making a significant impact on the way in which commodity business is conducted and recognising those institutions making a positive contribution to the development of markets, client responsibility, and investor satisfaction," Isherwood added.
"Whilst there have been some bright spots, overall commodities have continued to underperform as an asset class. This year prices for iron ore, coal and oil have plummeted as current economic conditions remain too soft to support lasting tailwinds for prices. Commodity funds have been closed and many producers now face the prospect of producing below the cost curve.
"We also continue to strive to make sense of – and implement – the new regulatory and reporting requirements being demanded of our industry, as well as the increasing capital costs associated with activities. This paradigm shift in the roles and relationships between market participants has made this yet another transformative year for commodity markets.
"Governments, regulators, investors, speculators, traders, manufacturers, and consumers – all those with a stake in the commodity industry – rely on those organisations represented here today. They are the best-in-class of the commodity business community.
"Commodity Business remains critical to the world's requirements to provide food, fuel, shelter and services to a burgeoning population. And the shifting patterns of commodity demand and supply continue to challenge participants as the structures and players in the commodity supply chain develop further," Isherwood added.
Ends --
www.commoditybusinessawards.com
NOTES:
The Commodity Business Awards: A two-stage process
Stage 1: The first stage for nominations concluded in September 2014. Companies from throughout the commodity complex were invited to nominate themselves or others in any one of the 20 categories of excellence.
Stage 2: The second stage took place during October 2014 and involved voting at the dedicated Commodity Business Awards website for one of the shortlisted nominees from each category drawn up by the awards panel.
Votes were then counted, and in conjunction with the strength of each nomination and the views of the awards panel, winners were chosen.
Full information on the awards and the awards process is available at the website:
www.commoditybusinessawards.com
Contact:
The Commodity Business Awards were adjudicated by Commodities Now magazine and numerous market specialists.
All correspondence associated with these awards should be addressed to:
Guy Isherwood, Publisher/Editor, Commodities Now magazine
T: + 44 (0) 1253 700 502
E: This email address is being protected from spambots. You need JavaScript enabled to view it.">This email address is being protected from spambots. You need JavaScript enabled to view it.
All information in relation to these Commodity Business Awards is protected.