Commodity Transactions Management ...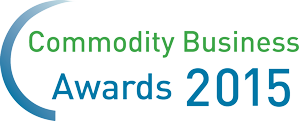 This series of Commodity Business Awards highlights those companies supplying the essential trading and service environments for conducting commodity business.
Commodity Broker of the Year, 2015
Whichever commodity markets or disciplines you cover, this Commodity Broker Award will be presented to the traditional (non-position taking)
commodities broker that has shown consistent innovation and product development over the last twelve months.
The role of the traditional broker continues to evolve and the Awards Advisory Panel will be looking for Nominees that have challenged the status quo – developing new ways of interacting with clients, enhancing product lines, engaging with the industry and its regulators, and providing additional trading and clearing services etc.