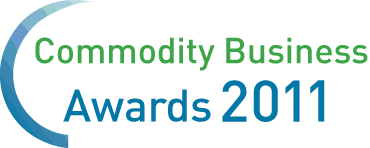 The winners of the 2011 Commodity Business Awards were announced on Wednesday November 16th at:
The Cumberland Great Cumberland Place, London.
The 2011 global Commodity Business Awards were announced on November 16th at a special ceremony in London. The Awards were presented by a variety of commodity market dignitaries and hosted by Simon Evans, celebrated British broadcaster and comedian.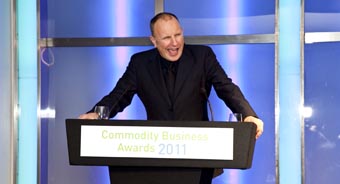 The Commodity Business Awards recognise and reward excellence in 20 key commodity business disciplines, whether that's in the physical and/or financial arena: in trading, risk management, structuring, finance, research, advisory, logistics, legal, and specialist technology.
The 2011 Award winners are:
Rewarding Excellence in:
Trading, Risk & Portfolio Management

Energy Markets: GDF SUEZ Trading
Industrial Metals: Marex Spectron
Precious Metals: Credit Suisse
Agricultural & Softs Markets (Joint Winners): Wells Fargo Commodities / Macquarie Bank
Emission Markets: EDF Trading
Renewable Energy: Sindicatum Sustainable Resources
Traded Commodity Markets (all products): Newedge
Commodity Market Development

Risk Exposure Mitigation: BNP Paribas Commodity Derivatives
Finance & Structured Products: BNP Paribas Commodity Derivatives
Market Policy & Advisory: The Gold Standard Foundation
CTRM Software: OpenLink
Data Management: DataGenic
Commodity Logistics: Triple Point Technology
Commodities, Legal: Reed Smith
Corporate Social Responsibility: Thomson Reuters
Commodity Transactions Management

Commodity Deal of the Year 2011
RWE Supply & Trading / Deutsche Bahn
Commodity Research House of the Year 2011
Barclays Capital
Commodity Broker of the Year 2011
GFI Group
Commodity Exchange of the Year 2011
CME Group
Commodity House of the Year 2011
BNP Paribas
"Having just welcomed the 7 billionth human inhabitant to our planet, success in the development, management and preservation of our natural resource wealth has become all the more prescient. Commodity business has therefore become pivotal to human need, endeavour and prosperity like never before," said Guy Isherwood, Awards Patron and Publisher/Editor of Commodities Now magazine.
"These Awards recognise and reward talent and excellence throughout the commodity complex ... to those companies making a significant impact on the way commodity business is conducted and recognising those institutions making a positive contribution to the development of markets, client responsibility, and investor satisfaction," added Isherwood.
Events over the last twelve months have again reminded us of the challenges – and dangers – that forever confront this industry. The MENA uprising; the fallout (political and otherwise) from Fukushima; the unravelling of new financial regulations; the sovereign debt crisis; ... all are, and remain, themes that professionals in this marketplace deal with.
"In our business we have developed market-based mechanisms to achieve desired outcomes. Whilst not perfect, the responsibilities we have to our employers, shareholders and clients should not overshadow our need to develop markets responsibly and ethically."
Ends --
www.commoditybusinessawards.com
The Commodity Business Awards: A two-stage process
Stage 1: This first stage for nominations concluded on September 16th 2011. Companies from throughout the commodity complex were invited to nominate themselves or others in any one of the categories of excellence.
Stage 2: The second stage [during October 2011] involved voting at the Commodity Business Awards website for one of the shortlisted nominees from each category drawn up by the Awards Panels.
Contact:
The Commodity Business Awards are adjudicated by Commodities Now magazine and numerous market specialists. All correspondence associated with these awards should be addressed to:
Guy Isherwood, Publisher/Editor, Commodities Now magazine
T: + 44 (0) 20 7801 0303
M: +44 (0) 7808 760 372
E: This email address is being protected from spambots. You need JavaScript enabled to view it.
W: www.commoditybusinessawards.com
All information in relation to these Commodity Business Awards is protected.
The information contained in this message is confidential and protected by law. If you are not the intended recipient, please contact us and delete this message. Any unauthorized copying of this message or unauthorized distribution of the information contained herein is prohibited.