Commodity Broker of the Year, 2012

GFI Group (which includes subsidiaries Amerex LLC and Starsupply) have been leaders in the brokerage of energy and commodity products for over 30 years. The group's brokerage desks cover the full range of energy and related products globally, including physical and financial electricity, natural gas, coal, crude oil, fuel oil refined products, carbon emissions, and renewable energy credits. Recently, new products have been added such as iron ore.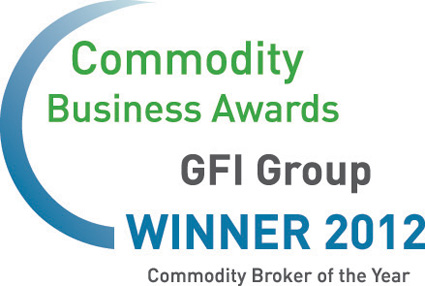 A key differentiating factor is the group's hybrid brokerage strategy and the development of state-of-the-art execution platforms EnergyMatch® and EnergyMatch® Europe. GFI has delivered major improvements to the EnergyMatch platform and has successfully rolled out Matching for ERCOT.
Revenues from commodity products continued to increase throughout 2011 and into 2012. During the year GFI became the first broker to clear an electronically traded Iron Ore Swap via STP with SGX and was the first to establish STP with SGX for Dry Freight FFAs. GFI has also improved clearing house connectivity by introducing Trayport Clearing Hub and adding SGX to list of clearing houses providing STP to EnergyMatch Europe.
Other notable achievements during the year include:
Launching a brand new desk in Physical Light Ends based in the US.
Formation of market data partnerships with Summit Energy, E.ON EDIS, OTC Market Data,

Power Data, and Dow Jones.

Wholesale Market Brokers' Association Americas elected Christopher Giancarlo [Executive Vice President at GFI Group] Chair of the Association.

Amerex launched US Coal desks and introduced new PJM Zonal Data Report.
Signs multi-year energy procurement services deal with CHRISTUS Health.
GFI was also an early mover in going live with EFET's eXRP – an industry wide initiative designed to standardise exchange processes across European clearing houses and enhance connectivity.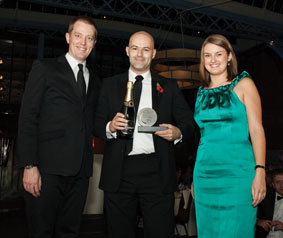 In North America, Amerex brokers continues to excel in all the voluntary and compliance U.S. Federal and regional emissions markets including NOx, SO2, HGB, NOx, ERCs, and DERCs. Amerex offers both long and short term forwards as well as options in each of these products and is an industry leader in structured emissions transactions. Specific to the emissions markets Amerex intermediates approximately 30-40% of all transactions of SO2, Annual and Seasonal NOx and RGGI allowances. Amerex is also one of the more well-recognized brokers of regional emissions markets such as the South Coast AQMD PA-NYS ERC market and renewable energy credits. Adapting to ever-changing environmental legislation, the emissions team at Amerex offers customers access to unsurpassed technical regulatory and market knowledge.
GFI Group's commitment to the commodity sector is unsurpassed and, as reflected in the strength of its nomination and the votes cast by the industry, GFI are deserving winners of this year's Commodity Broker of the Year Award.
The Award for Commodity Broker of the Year was presented to Luke Jemmett, Head of Energy Market Development at GFI Group, by celebrated British comedian Alun Cochrane.