Excellence in CTRM Software

In this highly competitive field, the award for Excellence in CTRM Software 2012 is awarded to Aspect Enterprise Solutions.
Commodities trading and risk management (CTRM) is in a state of rapid change. The catalyst is three-pronged: A global tightening of the regulatory and corporate governance environment surrounding the buying and selling of commodities; shrinking lines of credit; and a growing consensus that legacy client-server architecture, the established delivery mechanism for CTRM solutions, must make way for Web-delivered next-generation SaaS/Cloud Computing.
The first two points are driving mid-tier companies to adopt solutions that larger companies have used for years. Now with Aspect's powerful Cloud-based commodity trading, risk and operations management solution – AspectCTRM – they're able to afford a professional system to show the banks they're no longer using spreadsheets, which helps them obtain credit – and they're able to comply with regulations. AspectCTRM was the first Web-based solution covering multiple commodities including crude oil, petroleum products, biofuels, coal, metals and steel.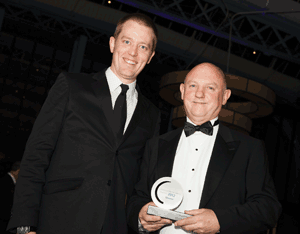 Over the last 12 months, Aspect has deployed inventory management and physical operations functionality, enhancing its robust trade and risk front end with features necessary for managing supply and moving it across the supply chain. AspectCTRM now features several modules which are flexible and developed as components that can be deployed as new challenges arise and new functionality is needed, and include: Trade, Risk, Financial & Physical Operations. Because the suite is sold as a subscription, and is Web-based, companies are able to add users by functionality. The addition of Physical Shipment & Inventory features, allows companies to add operations personnel to use the solution and share the data from front, middle and back offices, creating a truly end-to-end solution in the Cloud. SAP, Oracle, homegrown, and other solutions can be integrated as well.
Aspect has enjoyed steady, consistent growth for its solution, growing almost 20% in licenses. New users were added in every region of the world. AspectCTRM has also deployed over the past year a Multi-Commodity Framework, which allows for trading support for just about any commodity. Aspect has also been picking up customers in metals, steel, biofuels, and coal to go along with its strong oil and petroleum products customer base. Companies large and small are using Cloud applications throughout their organization. AspectCTRM customers range from large to mid-size and include: TNK-BP, Itochu, Noble, Bominflot, Trafigura, Mabanaft, Petrodiamond, and Itochu.
AspectCTRM is flexible and scales to the functional and budget needs of its users. It begins with the out-of-the-box, front-office Lite Edition (LE) designed for small firms, and expands to its Standard Edition and Enterprise Edition (EE) with front, middle and back office functions with integration to other systems such as SAP and Oracle Financials. As companies grow and requirements become more complex, AspectCTRM can expand to meet those demands without the costs and hassles associated with software installations and replacements.
The advantages of Web-based solutions are unrivalled by traditional software, especially in a world where budgets are tighter and total-cost-of-ownership and ROI are critical. Web-based means users have instant access to the full range of functionality from any standard Web browser. There are no long costly installations or expensive servers and databases to buy and support. Rapid deployment is provided by Aspect out of the box, with customized configurations depending on the complexity of each company's requirements. AspectCTRM scales from single users to thousands at multiple locations across global businesses, all backed up with professional support and disaster recovery built into the solution. No longer is a professional solution out of reach for smaller companies. Capital can now be diverted to other parts of the business.
Aspect's vision for Web-based applications was ahead of its time 11 years ago, as many companies were not ready for change, and in the oil business, change can be slower than other sectors. Six years ago many energy companies we spoke to were still resistant to Web-based applications. Now 100% of them have SaaS applications running somewhere in their companies, and many have several solutions running throughout their various departments. Even IT Groups are embracing SaaS as a way to bring in solutions quickly to solve business challenges, so they can re-direct their attention on integration and other projects. Aspect is a young company with the latest technology and a proven success rate with its growing list of 500+ customers and products. The Aspect architecture was built from the ground up to support powerful systems for today's industry professionals that are embraced by trading companies globally.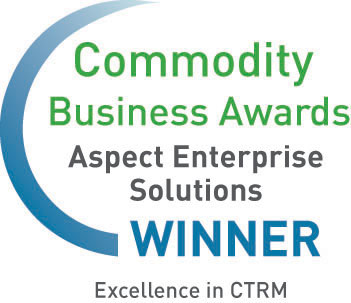 Voters in this category were suitably impressed choosing the Aspect Enterprise Solutions in the face of strong competition. The judging panel agreed, rewarding Aspect Enterprise Solutions with the Commodity Business Award for Excellence in CTRM Software 2012.
The award was presented to Steve Hughes, President and CEO, by celebrated British comedian Alun Cochrane.
---------------------------------------------------------------------------
Special Commendation: Contigo
The special Commendation award in this category is awarded to Contigo. This award recognises the impact Contigo has made on the commodity market trading industry over the past year and highlight's the enTrader Product Suite's 100% client satisfaction rate.
"We are very proud to be highlighted for a Special Commendation by those who work in our industry. The evening was a great success and we would like to take this opportunity to sincerely thank all of our customers and associates who took the time to vote for us and our enTrader Product Suite. It is an honour that so many people consider our solutions worthy of such a prestigious award" commented Simon Piercy, Contigo Director.
Alongside the CTRM Software commendation, the enTrader Logistics solution (a module within the enTrader Product Suite) also receives a nomination in the Commodity Logistics category. The Commodity Logistics Award acknowledges service providers within the commodity industry who specialise in supply chain management, this can include: warehousing and storage, transportation, and collateral management services. enTrader Logistics was nominated as it is quickly being recognised as a key tool for asset heavy operators. The solution is currently being used by some of Europe's largest energy generators to move from 100% coal-fired to a co-fired or pure burn Biomass model. This assists generators to realise the environmental benefits of biomass at the same time as extending the station life and increasing investor returns.
Since launching the flagship enTrader Product Suite in 2009, Contigo have rapidly grown their customer base to include many of the UK and Europe's largest asset heavy, blue-chip power generators, utilities, brokers, financial institutions and retailers. The UK based client portfolio includes four of the 'Big Six' utilities, featuring E.ON, RWE and Centrica. The enTrader Product Suite is also used within the international market as Contigo have clients such as Bord Gáis, one of Ireland's largest utilities, and CNR, France's second largest energy provider.