Commodity Deal of the Year, 2012

The Commodity Deal of the Year for 2012 is awarded to Morgan Stanley for its Petroplus Coryton, supply, offtake and inventory management undertakings.
In early 2012, PwC was appointed administrator of Petroplus Refining and Marketing Limited, owners of Coryton refinery which supplied 20% of South-East UK's fuel. PwC announced a tolling agreement with Morgan Stanley, KKR, and AtlasInvest (the "Consortium"). The objective was to keep the refinery fully operational to facilitate its sale by PWC.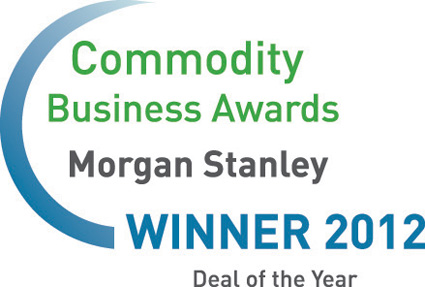 The Consortium acquired all inventory tolled for 4 months, absorbed the economic refinery risk from PWC, and provided working capital. Morgan Stanley was responsible for all supply product offtake and inventory management. The Consortium jointly maximised refinery operations. On termination of the agreement Morgan Stanley undertook a complex evacuation of hydrocarbons on site in conjunction with refinery staff. Morgan Stanley's expertise in structured supply/offtake transactions enabled the Consortium to execute the agreement within three weeks of initial engagement. This unprecedented timeframe secured ongoing crude supply and enabled the administrator to offer Coryton for sale as a fully functioning refinery.
The size and complexity of this deal cannot be overlooked. Morgan Stanley were the driving party as they were the Consortium partner which understood refineries from a physical perspective as well as how to manage commodity risk effectively – sourcing supplies and offloading inventory. AtlasInvest were brought in to manage the refinery, while KKR were present to secure the capital requirements. For such a complex transaction to come together in such a short period of time – which was critical in giving the administrator a good chance of making a sale and securing jobs at the site – is what really stands out in this deal. For Coryton, re-start-up costs and risks were paramount. At the same time, the refinery required crude supply in a tight crude market and for a basket of inputs. Crude oil prices were also extremely volatile at the time of the transaction.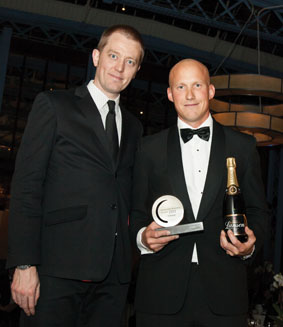 In keeping the refinery open for another 4 months, Morgan Stanley and partners were able to give a lifeline to PwC. And when a buyer for the refinery could not be found came the task of offloading up to $500m worth of inventory. The site was cleared in around 60 days.
"This Coryton, supply, offtake and inventory management deal is one of the most challenging and complex deals I have come across in this marketplace," says Guy Isherwood, head of the Awards Judging Panel. "An outstanding winner in this year's awards process."
Today, Morgan Stanley Commodities is a global team comprising over 400 professionals from over 40 countries ... including traders, originators, salespeople, quantitative analysts, traffic support, analysts and principal investment personnel, spread around the globe.
Voters in this category were also suitably impressed making Morgan Stanley this year's winner of the coveted Commodity Deal of the Year Award, 2012.
The Award for Commodity Deal of the Year 2012 was presented to Ronny Elenius, a Managing Director of the Commodities division, by celebrated British comedian Alun Cochrane.