Excellence in Energy Markets

Barely one year following Gaselys and Electrabel trading merger, GDF SUEZ Trading (GST), the trading arm of this premier worldwide utility, has markedly showed its strength. Their one-of-a-kind combination of physical and financial trading expertise has led to repeated European market recognition and continuous business partner loyalty. Despite a persistently gloomy economy, GST keeps delivering growth: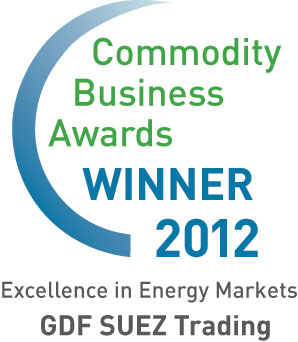 35 % revenue rise end 2011 vs 2010; 15% increase projected in 2012 vs 2011
6200 TWh energy equivalent traded volumes in 2011: 3315 TWh Gas, 2125 TWh Oil , 345 TWh Power, 418 TWh Coal
More than 200 new products since launch
Counterpart base up 20% throughout 2012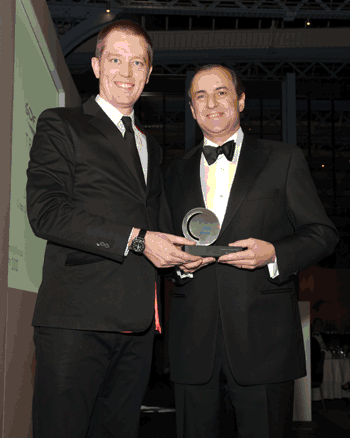 Expanding their business to Asia was the 2012 highlight with the June opening of GST's trading floor in Singapore. Asian Operations started with financial trading of crude oil and refined products, coal and Asian LNG references. GST are also taking steps to set up coal physical trading in early 2013 and have already emerged as a partner of choice for several Asian companies.
Voters in this category were also suitably impressed choosing GDF SUEZ Trading in the face of strong competition. Accordingly, the judging panel has rewarded GDF SUEZ Trading with the Commodity Business Award for Excellence in Energy Markets 2012.
The award was presented to Mircea Caratas, Chief Commercial Officer, GDF SUEZ Trading, by celebrated British comedian Alun Cochrane.