Commodity House of the Year, 2012

Today, Morgan Stanley Commodities is a global team comprising over 400 professionals from over 40 countries ... including traders, originators, salespeople, quantitative analysts, traffic support, analysts and principal investment personnel, spread around the globe.
Morgan Stanley's expertise in the paper business has evolved alongside its physical business since its inception in the early 1980s into a derivative and physical trading platform which provides the duality of offering a total physical and derivative risk management solution to clients. Their presence in the entire commodity supply chain allows them to speak credibly on real-time demand and supply flows occurring in the market. With its active presence in these markets, Morgan Stanley offers clients the ability to take advantage of market opportunities as well as manage the price risk inherent in their business.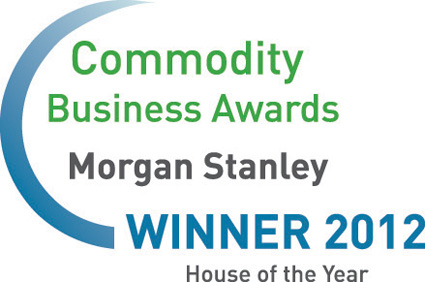 Morgan Stanley is a leading commodity trader providing 24 hour global coverage for all commodities markets. They are a market leader in trading energy (crude, oil products, natural gas, power, coal, LNG, emissions), freight (dry, wet), metals (base, precious, ferrous) and agricultural (softs, grains) worldwide. Their international team of commodities professionals trades physical commodities and associated derivatives and futures.
Some recent standout achievements include:
In early 2012, Morgan Stanley structured and executed a multi-party transaction that supported the construction of 189 MW wind farm. Key features of the transaction include a long-term fixed price Morgan Stanley physical off-take agreement, a structured hedge, and a construction loan. 
Since January 2012, Morgan Stanley has been contracted to ship physical LNG cargoes to Argentina, Brazil, Portugal, Netherlands, Turkey, Greece and Japan.
Morgan Stanley continues to supply feedstock/offtake products at a number of US refineries and in 2012 entered a 4-month tolling arrangement at Coryton Refinery, Essex, following the parent company entering administration.
Morgan Stanley has set up a weather desk allowing clients to hedge against earnings variability due to weather.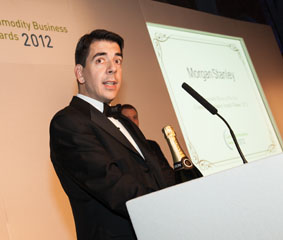 Over the last year, Morgan Stanley has had a number of significant achievements, not least ALSO winning this year's award for Commodity Deal of the Year. Voters in this category were also suitably impressed making Morgan Stanley this year's winner of the coveted Commodity House of the Year Award, 2012.
The Award for Commodity House of the Year 2012 was presented to Fuad Egeli, a Managing Director in the Commodities Division, by celebrated British comedian Alun Cochrane.