Excellence in Precious Metal Markets

Following on from the momentum gained last year, Credit Suisse has continued to expand its reach in the precious metal markets, furthering its e-Commerce offering through the introduction of spot and option trading in platinum and palladium.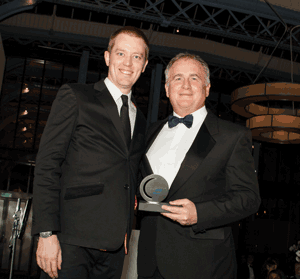 The continuous investment in its platforms and distribution capabilities has resulted in a much bigger e-commerce footprint in the precious metals markets, making Credit Suisse the leading liquidity provider for many vendors.
Credit Suisse's commitment to delivering client-focused services makes them one of the few players in the precious metals market to offer a full range of services from physical metals/storage/refining to spot/option flow to exotic/structured deals.
Voters in this category were also suitably impressed, choosing Credit Suisse in the face of strong competition. Accordingly, the judging panel has rewarded Credit Suisse with the Commodity Business Award for Excellence in Precious Metal Markets 2012.
The award was presented to Chris Stainbrook, Director, Global Head of Precious Metals Trading, by celebrated British comedian Alun Cochrane.