Excellence in Traded Commodity Markets

Marex Spectron has won the Excellence in Traded Commodity Markets award, in this year's Commodity Business Awards organised by Commodities Now magazine. Marex Spectron has also received a special commendation for Broker of the Year.
The award for Excellence in Traded Commodity Markets is presented to the organization that has provided an innovative and wide-ranging portfolio of services dedicated to trading, marketing and satisfying commodity client demands.
John Wall, CEO of Marex Spectron Group, commented: "We are delighted to receive this prestigious award in recognition of our continuing commitment to provide the highest standards of service to our clients across all products and geographies."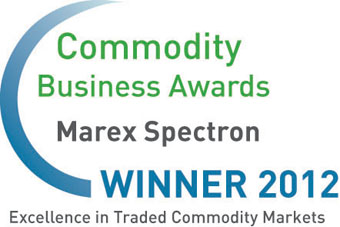 Marex Spectron Group was formed following the acquisition of Spectron by Marex in March 2011. It is the world's largest privately owned broker of financial products in the commodities sector and a leader in brokering physical energy products. Marex Spectron has significant market share in the energy, metals, freight, environmental and agricultural markets – both on-exchange and over-the-counter. It is also a premier specialist broker of financial futures, foreign exchange and securities.
Clients include commodity producers and consumers, banks, brokers, CTAs, hedge funds and professional traders. Marex Spectron Group is a member of the London Metal Exchange, the London Stock Exchange, the CME Group exchanges, ICE US, NYSE Liffe, ICE Futures and Eurex, and offers access to all major exchanges in the US and Asia.
The Group is headquartered in London, with offices across the USA, Asia and Europe. Its subsidiaries are regulated by the Financial Services Authority in the UK, the National Futures Association in the US and the Securities and Futures Commission in Hong Kong. Marex Spectron Group is majority owned by JRJ Group and its partners, Trilantic Capital Partners and BXR Group.
The award was presented to Richard Frape, Director of Market Services, by celebrated British comedian Alun Cochrane.